The How to redeem Codes page lists ways of redeeming a code.
Codes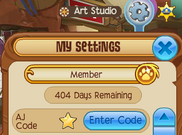 Codes are very important in the game National Geographic Animal Jam. To use codes, follow the guides below.
Method 1
Log into Animal Jam.
Click on the my settings button.
There will be a section that says AJ Code- Enter Code.
Enter your code, and then you get your prize.
Method 2
Before you log into your account you should see a button on the splash screen. It's says "I have a Code to Enter!"
Enter the code and click "Play" and redeem your prize.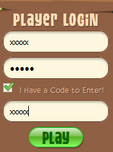 Method 3
Go to www.animaljam.com/redeem
Enter Code.